We have all been living through difficult times since the pandemic struck, and we are aware that this can be challenging for our mental health.
At least one in six workers experience mental health problems, including anxiety and depression. Awareness and support to retain and grow good mental health in the workplace is increasing. However, despite some resources there is still a gap in awareness and provision for creative freelancers.
Working Well – Good Mental Health and Creative Freelancers is a resource around mental health and creative freelancers produced by the AOI, in partnership with the UK's Society of Authors and Association of Photographers. You can download it from the title link.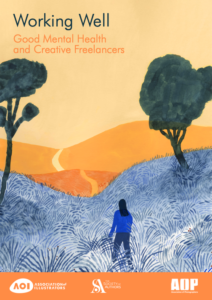 This resource aims to throw a light on some common issues encountered by creative freelancers. It suggests some practical strategies if you are concerned that your wellbeing is slipping. It's not the solution but it's the start of the conversation. The resources are UK based, but the resource has many useful general tips and suggestions for dealing with feeling overwhelmed, imposter syndrome, creativity and emotion and more.
Illustrations by Charlotte Ager