The Illustrator's Ninja Guide
Most illustrators are freelance professionals. And freelance creative artists are mini-companies. In addition to your creative work, you have to handle business plans, negotiate projects, prepare quotes, contracts and invoices. You must have a firm understanding of the rights involved with your artistic creations, to protect and be able to exploit them. You also have to operate in a complex market and protect yourself from abusive practices. Freelance illustrators need ninja training and skills. Which is where the Ninja Guide comes in.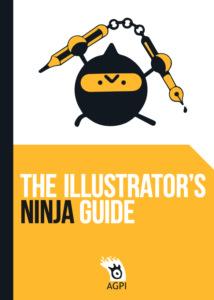 The Ninja Guide is being made available via the European Illustrators Forum (EIF) as a resource for all to reference. EIF is a network of national associations of illustrators in European countries, providing a platform for contact and meetings between all European groups.
WHAT IS THE ILLUSTRATOR'S NINJA GUIDE?
This is a small advocacy guide for freelance illustrators: it considers the main hazards and problems facing the profession today and how to address them. The Guide was created by our friends at AGPI in Spain who face the same issues as we do across Europe, and they made this Guide as a response. It contains a number of texts which are solely relevant to Spanish law and systems (including areas on tax, social security, arbitration, registers of work and certain contract terms), however it is a great overall guide covering freelance situations many will recognise.
The Ninja Guide is also for art students, freelance creative artists, clients, friends of illustration, and, above all, those people who are starting out in the profession or wish to do so.
Download the Ninja Guide in English here:
English version print July 2020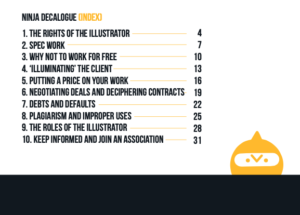 The Ninja Guide is an adaptation of "A Guía Ninja do Ilustrador", first published in 2016 by AGPI – Asociación Galega de Profesionais da Ilustración
This work is licensed under a Creative Commons Attribution NonCommercial-ShareAlike 4.0 International License.