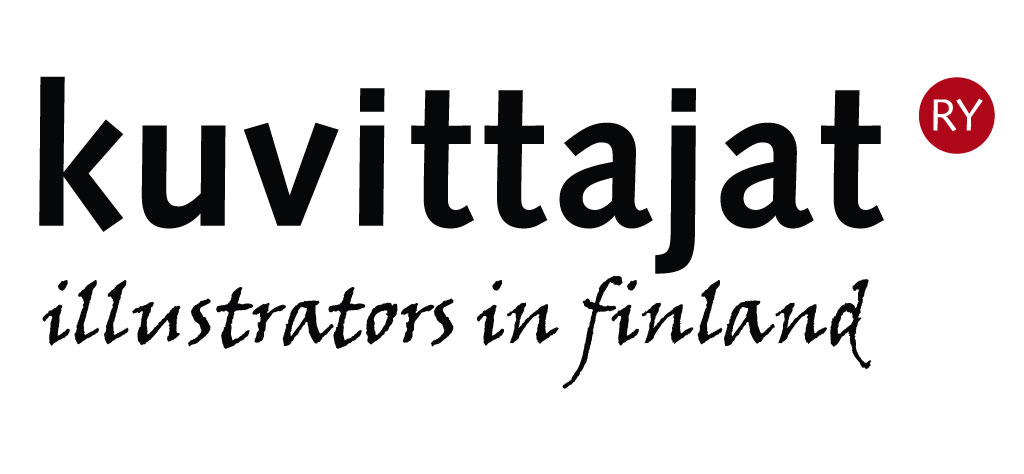 Area of competence: All areas of Illustration.

 Year of foundation: 2002 Number of members: about 400
Executive Director: Heli Halme
Some of the organization's most important tasks are to support and promote the professional, legal and financial interests of illustrators in Finland, i.e. through legal advice and contract model forms. Additionally, the organization aims to establish a permanent archive of illustration. Other fields of activity include arranging illustration exhibitions and training for the members, distributing grants to support the work of illustrators, administering the biannual Kieku-, Kaiku and Kukko prizes and hosting a monthly club as meeting point for illustrators.
The organisation's external activities include publishing and distributing the quarterly journal Kuvittaja to members and subscribers nationally. The organization's international network consists of Nordic co-operation with Svenska Tecknare (The Swedish association of Illustrators) and collaboration with European illustrators through EIF.
Kuvittajat distributes grants each year in the fall to support the work of illustrators; smaller grants (worth 100-400 €) are for art supplies and exhibition expenses and bigger grants (worth 1000-3000 €) for artistic projects.
The organization's activity is funded by government subsidies, membership dues and remunerations for photocopying from the Finnish copyright organization Kopiosto.
Head office address
Kuvittajat ry  Hämeentie 150  00560 Helsinki  Finland