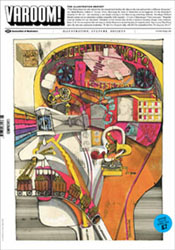 Best cases keeps rolling in to Sharing Possibilities Oslo 2014, and in the coming months we will be presenting a couple that has caught our eye.
For most people in the illustration world (and those peeking in), Varoom is no stranger. Published by the Association of Illustrators in the UK, it is the only illustration magazine commenting on and discussing the contemporary illustrated image in depth. Each issue is themed, with recent themes covering Empathy, Obsession, Experiment and Rules. Not only do we enjoy the in-depth stories Varoom carries – but as the visual junkies we admittedly are – the thought of the fantastic images have us on the edge of our seats every time the familiar thud of Varoom hits the mailbox.
Day 1 at Sharing Possibilities Oslo 2014 is all about learning from each other. So far many amazing projects have been presented, and we are very excited to hear more stories of illustration achievements throughout Europe. If you haven't registered there is still time both for you and your best case. Here is a link – let's share!