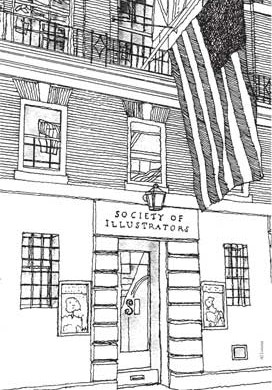 was founded in 1901 and is one of the leading societies of illustrators in the USA (New York). We are pleased about having SOI as a new affiliation partner for EIF. In the following you find some general informations as well, as the actual event programm.
DRAWING SESSIONS  Tuesday and Thursday evenings, 6:30-9:30, SOI hosts drawing sessions for a $15 admission fee, $7 for students. It's an informal evening with live models, a live jazz band, and bar.
THE MUSEUM of AMERICAN ILLUSTRATION at the SOCIETY of ILLUSTRATORS
128 East 63rd Street , New York, NY 10021-7303, TEL (212) 838-2560, FAX (212) 838-2561, www.societyillustrators.org
GALLERY HOURS: 10 AM – 8 PM Tuesday, 10 AM – 5 PM Wednesday – Friday, 12 noon – 4 PM Saturday Closed Sunday, Monday, and most holidays
Admission Free for Members and their guests, $10- General, $5- Students/Seniors (65+), Children under 12 are free, must be accompanied by an adult, Tuesdays from 5-8pm are free.
Group Rates Group rates and tours are available upon request.  Email info@societyillustrators.org. Schools that are Educator Members have free admission for students accompanied by faculty.
EVENTS
For information about exhibits and events, please visit: http://www.societyillustrators.org/Calendar.aspx
DRAWN TO NEW YORK
(now – Oct 5)
Peter Kuper's illustrations and comics have appeared in magazines around the world including Time, The New York Times and MAD where he has written and illustrated SPY vs. SPY every issue since 1997.
THE VISION OF GEORGE STAVRINOS
(now – Oct 19)
Featuring over 100 illustrations highlighting Stavrinos' career as a seductive draftsman and fashion illustrator, this exhibit offers the public an opportunity to acknowledge this renaissance artist who was gifted as a designer, photographer, filmmaker and commercial illustrator.  His work remains an inspiration for art and fashion today.
GREGORY MANCHESS: A LIFE IN PAINT
(now – Oct 26)
Creating a moment that communicates emotionally with the viewer is the essence of Gregory Manchess' artwork.
LECTURE SERIES:  Cal Schenkel & Gary Panter in Conversation
(Sep 21, 2:00pm-4:00pm)
SPECIAL EVENTS:  Brunch at the Society (Sep 21, 11:00am-3:00pm)
HAPPY HOUR & OPENING RECEPTION FOR Peter Kuper: Draw to New York (Sep 25, 5:00pm-10:00pm)
LECTURE SERIES:  An Evening with Gregory Manchess (Sep 27, 6:30pm-9:00pm)
LECTURE SERIES with Peter Kuper (Oct 1, 6:30pm-9:00pm)
SPECIAL EVENTS:  Art Out Loud 8 (Oct 5, 1:00pm-5:00pm)
Top fantastic illustrators will demonstrate their skills and techniques in an open forum. Featured artists include Mark English, Rebecca Guay, Gary Kelley, and Greg Manchess.
BATTLING BOY by Paul Pope (Oct 8 – Nov 2)
Paul Pope is the New York Times bestselling author/illustrator behind the fiercely beloved comics The One Trick Rip-Off, Batman Year 100, Heavy Liquid, and 100%. A master of gritty sci-fi epics, he's known for genre-bending storytelling and frenetic, stylish artwork.
THE ORIGINAL ART (Oct 23 – Dec 21)
The Original Art: Celebrating the Fine Art of Children's Book Illustration exhibit showcases the year's best children's books.  To be included in The Original Art, books must be selected by a jury drawn from illustrators, art directors, editors, and experts in the field.
OPENING RECEPTION: THE ORIGINAL ART (Oct 24, 6:00pm)
SPECIAL EVENTS:  Dinner at the Society (Oct 24, 5:00pm-10:00pm)
ILLUSTRATION WEEK (Nov 4 – Nov 9) Details to follow.
© Illustration above by AI Lorenz