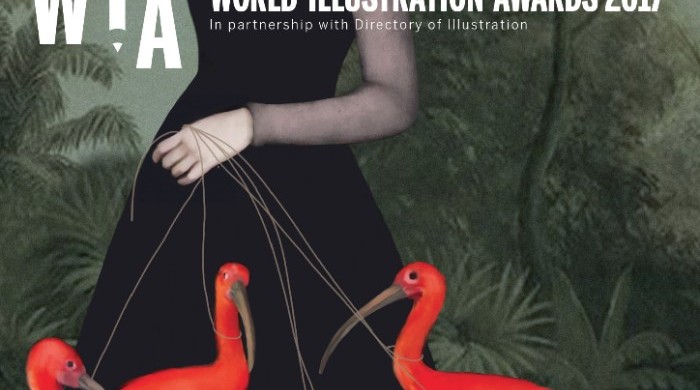 WORLD ILLUSTRATION AWARDS 2017 Call For Entries Now Open – Deadline 6 February
Celebrating the most inspiring illustration throughout the world. For over four decades, the AOI has presented the most prestigious Award for contemporary illustration in the UK and now, in partnership with the US based Directory of Illustration, expanding its reach to a global audience.
The 2016 Awards was the most popular yet with over 2300 entries from 64 countries. The winner of the Advertising Category, Julinu, states: "It's really encouraging for emerging illustrators like myself to receive this kind of recognition from industry heavyweights. This award will help me develop my illustration practice and attract new clients"
Work entered into the World Illustration Awards will be reviewed by a jury of distinguished international industry professionals. The competition shortlist reflects exceptional work by illustrators currently making an outstanding contribution to visual culture and is published in full on theaoi.com
We are delighted to welcome Affinity Designer as the Design Category sponsor. This year each category winner will receive an Affinity Designer software package as well as one year's free membership with the AOI.
Award winners will be announced in August 2017 at a prestigious ceremony at Somerset House, the major arts and cultural centre in the heart of London. Artist workshops are planned to accompany the month-long exhibition.
Who Can Enter? 
The World Illustration Awards are open to all illustrators working in any medium, context or geographical location. Work must be entered as either a New Talent entry or a Professional entry.
What Can Be Entered? 
Work entered for the competition must have been created or published between 1st January 2016 to February 2017. Work in any medium can be entered in any category.
Entries can either be Single Entry (one upload per entry) or Multiple Entry (up to 5 uploads per entry), including animation URLs. Professional entries must have been commercially commissioned for all categories except Self-Initiated Work.
What's New This Year?
– All category winners will receive a software package from the Design Category sponsor, software developer, Affinity Designer.
– All category winners will receive a year's free AOI membership.
– We now accept payments in three currencies: GB Pound £, US Dollar $ and Euro €. (see below)
Cost of Entry – GB Pounds – £25 per Single Entry, £45 per Multiple Entry – Euro – €30 per Single Entry; €54 per Multiple Entry – US Dollar- $33 per Single Entry $60 per Multiple Entry
Key Dates
Midday (UK) Monday 6 February 2017 Call for Entry closes May/
June 2017 Shortlisted work announced July 2017 Category Winners announced
August 2017 Awards Ceremony Awards Exhibition opens at Somerset House
1-28 August 2017 Awards Catalogue published October/November 2017 Exhibition starts national and possibly international tour
Enter at http://www.theaoi.com/awards/
Image © Daria Petrilli